​
Welcome to Kerbie and Ren's Pitch Wars Wishlist!
​
​
Pitch Wars is a mentoring program where published/agented authors, editors, or industry interns choose a writer to mentor, then spend three months helping the mentee revise a manuscript until it's ready to query.
Pitch Wars kicks off soon, with the application window opening from September 25-27, 2019. Mentees will be announced in early November, and in February 2020 there will be an Agent Showcase where agents can read a pitch/first page and can request to read more!

Check the Pitch Wars website for all the dates, details and how to apply.
​
Together, we (Kerbie & Ren) are very excited to announce that we'll be looking for Adult Sci-Fi, Fantasy and Speculative Fiction manuscripts. We're also open to select New Adult manuscripts (see below for our note on NA).
Read on to find out if you'd be a great match for our mentorship!
​
About the Mentors: Kerbie and Ren
​
​
Kerbie is a librarian and an intern for a major literary agency. Kerbie has always worked or volunteered in bookstores and libraries, occasionally venturing into horror theory and presenting on panels at academic conferences. She was the marketing director for an indie bookstore, but left to finish her master's degree in library science. Kerbie lives with her husband and a dog too fluffy for her own good in Philadelphia. She is an avid collector of vintage tea cups, crystals, and Halloween decor. Oh, and of course, books.
Ren has worked as a writer, creative producer and content contributor for games-related IP, and formerly managed communications for a non-profit arts council. She currently works in game dev, while also plotting her next twisty space novel. She loves weird mysteries, pop science, elaborate book playlists, and pondering about alternate universes. She lives in London, UK, where she frequently misses her stop on the underground because she was too busy reading.
We met last year when we were both signed by Bridget Smith of JABberwocky Literary Agency. We swapped manuscripts soon after we started talking, and quickly realized that we make an excellent creative team :)
​
​
Our Mentoring Style
​
​
We have an eye for different types of details, but we share a very similar aesthetic in our writing and value the same kinds of storytelling. We regularly bounce ideas off each other and chat about characters, plot and craft, and we'd love to share this enthusiasm with our mentee.
As a mentoring duo, we'll combine our superpowers to give you the best of each of our experiences and strengths!
Kerbie tends to make lots of jokes and long, rambling editing metaphors (she once compared worldbuilding to melting cheese in the microwave). She loves being a cheerleader for writers, but she also has no qualms about tackling a chapter if it's not good enough yet. She was a two-time mentee herself, so while she understands the stress that comes with editing, she also knows it's very do-able.

Ren is a continuity queen, and she'll pick apart your plot holes to help you stitch them up. She has a knack for finding tiny edits that make a big difference. She's always prepared to unleash a string of excited emojis, and she never gives a difficult edit note without also telling you about the parts she really loved. She'll be head over heels for your characters, and will probably write you at least one incredibly silly fanfic.
​
​
What You Can Expect As Our Mentee
​
​
If you're chosen as our mentee, you will revise. Heavily. If you're committed to making significant revisions to take your manuscript to the next level, we want to hear from you! Some of the edits we've asked for in the past included slashing a POV, cutting characters, changing or re-ordering endings, etc. These are all things that sound painful, but every one of those writers said their book was much better afterwards. Revision is an exciting quest in your writing journey, and we're here to support you every step of the way!
As our mentee, you can expect a positive environment where you'll feel comfortable expressing your ideas, your worries and your hopes. Communication is key to us. We all have to trust each other in this process, so if you find yourself struggling, we want you to be honest so we can address the problems together. If you dislike a change we've suggested, we encourage you to tell us so! Together, we can find a different fix that we all agree on.
We both tend to be very communicative, and whatever style our mentee prefers will be the style we adapt to. Want to talk with us over Skype video? We're up for that! Need to pop us a casual question over DM or text? Yep, can do! Prefer to keep our communication to just emails? That's perfectly fine, too. Our goal is to be here whenever you need us, and we aim to reply as quickly as we can, even if it's one of those "oh god, what's that word, it's like a tree, but it's small and not? A plant????" meltdowns at 3am.
An extra bonus of having us as your mentors is that we're each in a different time zone! So any time you message us, odds are good that one of us is online or will be soon. Ren is in London (GMT+1) and Kerbie is in Philly (EST). That's lots of extra hours when at least one of us will be awake, if you text us a burning question in the middle of the night or just want a chat :)
​
And now, on to what you've been waiting for...
​
​
Our Pitch Wars Wishlist! *drumroll*
​
​
What We Love in a Book
​
First and foremost, we're always invested in characters. A compelling plot is important, but if we don't care deeply about the people at the heart of the story, we won't get half as drawn in. Give us characters who feel real. Give us characters who fail, characters who lose one thing and find something else, characters who get everything they wanted and don't know what to do with it. Give us characters who are flawed and determined. Give us the underdogs who won't quit, the villains with unexpected motivations, the woefully unprepared heroes who rise spectacularly to the occasion. Give us ordinary people in extraordinary circumstances, characters who doubt themselves, lift themselves up, defy their fates and rewrite the rules.

We love a good dash of romance with our SFF (queer romance especially!) but we also want to see stories about friendship and found families. Send us those ride-or-die besties & snarky rivals-to-pals. And banter. Dear gods, give us banter, all your quippy group casts and sharp dialogue and feelings. SO MANY FEELINGS. Bury us in feelings. If you can make us laugh or cry (bonus for both), you've already got us hooked.
​
Science Fiction
​
We adore sci-fi of all flavours, from speculation on the near-future to exploration of alien landscapes, from the machinations of sprawling interplanetary civilizations to the small, intimate narratives that take place on a single ship. Humans, post-humans, aliens, androids, artificial intelligences, technological gods... we want it all.
​
Got a book that involves AI, whether it's good, evil or undecided? OVER HERE!
Time travel, time distortion, time shenanigans of any kind? YES PLEASE! Immortality, longevity tech, post-Earth human civilization, uploading minds, mind-melding, memory hacking, reality-bending, simulation theory, all that good Matrix-y shizz? Yes. All that. Send us that.
​
Some SF books we love & the type of stories that will knock us into orbit...
​
• Intimate, character-focused space opera like The Long Way to a Small Angry Planet
• Lush worldbuilding and galaxy-spanning intrigue like A Memory Called Empire
• Intense, high-stakes space adventures like Velocity Weapon
• Time travel stories with heart, like Here and Now and Then or Time Was
• Haunting, heart-stopping alternate histories like The Black God's Drums or Famous Men Who Never Lived
• Irreverent sci-fi with a sense of humour like Space Opera
​
Sci-Fantasy / Genre Mashups
​
Mmm! Mash up those genres, flip those tropes! We'd love to see some fresh, imaginative genre mashups that do cool things with familiar elements. Got spaceships that run on magic? Ancient technology that can only be reawakened by spells? Technological artifacts controlled by trained wizards? Newly-discovered planets with unusual arcane properties? Give it all to us!

• We'd love to see a science-fantasy-blending, genre-bending book, like A Big Ship at the Edge of the Universe or In The Vanishers' Palace.
​
Horror/Dystopian/Apocolyptic
​
We're open to horror manuscripts that have a clear speculative twist! Anything paranormal, ghost stories, futuristic horror, horror-infused cyberpunk, we want it all.
Send us a creepy, unsettling story with a spec-fic verve, like The Luminous Dead, The Murders of Molly Southborne or Annihilation.
Dystopian/apocalyptic fiction, especially climate-related, feels incredibly relevant to us right now. Give us a story that shows not only how the world collapsed, but how it begins to claw its way back.
We'd love to read a hope-infused post-apoc tale like Station Eleven or The Book of M, or a high-stakes dystopian adventure with the energy of Mad Max: Fury Road.

We'd also be keen on a magic-based apocalypse / alternate history, like the Dominion of the Fallen series!
​
Fantasy
​
Ah yes, fantasy. The quirky fraternal twin of science fiction. That's a thing, right? (Can you tell who wrote this section? Told you Kerbie makes weird metaphors). We adore fantasy, from low to high, epic to magical realism. We are especially fond of fantasy with unique twists that subvert established tropes and breathe fresh air into the genre. And of course, we are both fans of stories with incredible worldbuilding and memorable characters!
Some Fantasy books we love & the type of stories that will put a spell on us…
Anti-heroes, thief guilds and fantastical heists like The Lies of Locke Lamora

Fantasy retellings with a twist, like Spinning Silver or Wicked (bonus points if you place the story in an entirely different setting or historical period than usual!)

Mythological retellings, especially feminist reimaginings like Circe

Quests with a squabbling, sarcastic party of misfits, like The City Stained Red

Surreal, fantastical adventures in a historical setting, like The Night Circus or Gods of Jade and Shadow

Anything that makes us feel like we're in a Guillermo Del Toro movie is a go!

Unusual magic systems and sweeping worldbuilding like the Tensorate series

Humans with extraordinary skills who become conniving villains, like Vicious

Tongue-in-cheek, humorous contemporary fantasy in the spirit of Good Omens
If your book has any of the elements we love from our wishlist above (and especially if you've got kickass, compelling characters at the forefront) then definitely give us a shot! We never know exactly what we're going to fall in love with, and if your query & pages put stars in our eyes, we're going to be diving for that request button even if we didn't quite expect it.
​
Diverse Voices
​
We'd love to get manuscripts from writers with diverse backgrounds, and we are committed to uplifting marginalized voices of all kinds that have been underrepresented in SFF. As two queer women ourselves, we are especially drawn by books that give nuanced, expressive portrayals of LGBTQ+ characters and that explore themes of gender identity.
​
New Adult Manuscripts
​
While we are accepting new adult in the above genres, most of the time, new adult can be reclassified or revised so that it is either squarely adult, or squarely young adult. If you think your book can skew older, but you don't know how to revise it to make it solidly adult, please submit to us! We have helped people edit new adult books to fit better into adult, so this is a challenge we're up for.
​
What We Aren't Looking For
​
We are not a good fit for extremely violent or gory content, or manuscripts with on-the-page sexual assault. This content doesn't necessarily mean it'll be a hard 'no' from us, but if you decide to submit to us, please include the appropriate content warnings for significant on-the-page violence, gore, sexual assault, or body horror.
​
Word Count
​
Adult SFF is relatively accepting of longer word counts, even for debuts. However, given the time constraints we're up against during Pitch Wars, we'd prefer to receive manuscripts that come in at 135k words, max.
​
​
​
​
​
​
​
WHAT? Only 135,000 words?
​
That said, if you've got an absolutely smashing premise and your pages really hook us, we could still be tempted by something longer! Just know that if you've got an 180k monster to tame, we're going to ask you to make some difficult cuts, and we'll be working hard to bring that manuscript length wayyyy down. Come prepared to chop, chop, chop!
​
​
Why You Should Apply to Us
​
​
We promise that we'll be your biggest fans, we'll be your strongest advocates, and we'll believe in you even in the most difficult moments. We know what it's like to tear a book apart and build it up again, and we'll be right there with you, sending you goals, encouraging texts, tough love, or cat gifs as needed.
Believe us when we say we're as excited as you are, and we can't wait to see what the Pitch Wars inbox will have in store for us! Good luck!
​
​
Got Questions? Get in Touch!
​
​
We'd both be happy to answer any questions you have about us or about our wishlist. You can find us on Twitter: Ren @earlgreyhot + Kerbie @kerbieaddis
We will also be participating in the SFF #AskMentor Twitter chat on September 19, 8pm EST.
PS. You can choose FOUR mentors or mentor pairs to submit to, so make sure you check out all the other incredible mentors and their wishlists, too!
​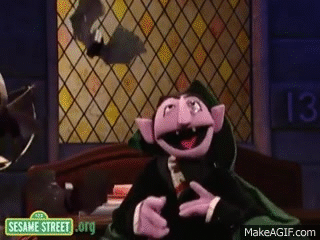 [[Image Description: The Count from Sesame Street]
[Image Description: Gif cartoon of a robot and a human playing chess.]
If the code above isn't working, click this link to see other mentors' wishlists!
[Image Description: Gif of Captain America, wearing blue and saluting the camera, with "Good Luck" scrolling across.]